Solid Surface Countertops- The Best and the Most Popular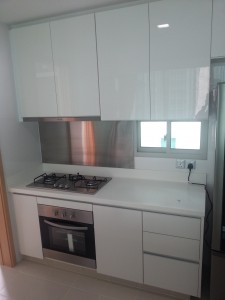 Solid surface is a substance made by man mixing different substances chiefly polyester and resin to create a material for building countertops and worktops in different places and especially in the kitchen. They have replaced the primitive materials that were earlier used for the same purpose such as wood, ceramic tiles or laminates. This is not without reason. It has successfully been able to solve the problems and difficulties that the earlier surfaces provided with such as the porosity of wood that led to bacterial and microbial growth and the extreme vulnerability of ceramic tiles to heat that made them crack.
Easy Caring
Solid surface countertops have been doing the rounds for quite some time now and they have become the most popular of the countertop surfaces now. Over the years it has stood the test of time and has endured the worst of exposure without any fuss in many kitchens all over the world. It requires little maintenance, is relatively inexpensive and is sturdy with a warranty of ten years to testify to the fact.
Easy Corrections
Cuts and scratches that are natural to come once the solid surface countertop is under use can easily be smoothed out by using sandpaper. The reason behind this is the fact that the patterns and the colours of a solid surface are not superimposed and actually run throughout the volume of the material. This is certainly one of the major advantages that a solid surface countertop can provide to a user of today.
Flawless Strength and Less Fuss
Added is the fact that for such sturdiness, the surface incurs no labour. Its maintenance has few requirements. The biggest priority lies in the surface being cleaned daily. This ensures that no contamination takes place whatsoever since the surface has no folds or cuts that shall result in microbial growth. Also, keeping in mind the materials out of which these surfaces are made of, polyester and resin and sometimes acrylic, it is better to not expose them to too much heat since it may cause a reaction.
Personalization to Reflect Own Taste
Another difficulty that a solid surface countertop has solved is that it can be really rolled out to form any shape or size required. This makes it able to fit in all sorts of places and hence its universal appeal and popularity. Also a solid surface can be imparted any colour, design or pattern that we wish to give it. This allows people to design places as thy like to reflect their taste. Customization ability is after all something that all creative people like.
Conclusion
Combined with its reasonable prices, solid surfaces make a compelling case against most of its competitors and alternatives. Its manifold advantages and great track record make it one of the best countertop materials.