Things to compare between Quartz Countertops and Solid Countertops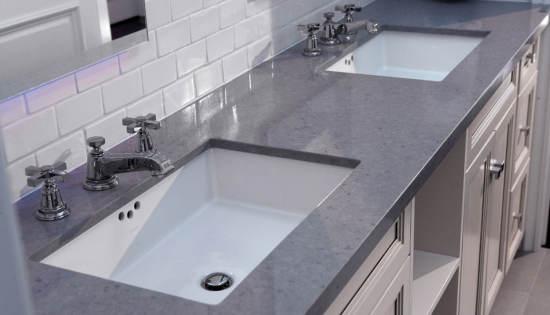 The world has changed and the trend has changed. Intelligence has found out a new level of success where the growth is not only to industries but in the minds of people as well. Infact, people have come out with innovations in their living styles as well. Modernity has brought in a change to the society making it look even beautiful. And thus beautiful has become the new word for your home. Droop in the best interiors for your rooms to make it look attractive indeed. Bring in the new concept of quartz countertops to make your home attractive to your friends.
Related: Get A Difference Look And Ambience With Quartz Countertops.
Bringing up countertops has always become the new gloss for people. But there are certain things one should know if you are planning for a new countertop:

Costs: One of the strategic points to consider is the presence of costs in purchasing a new countertop made up of quartz. Solid countertops are certainly available at a cheaper rate in the market which is easily available in the market. However, countertops made up of quartz are a bit higher in value. The pricing starts up from $150 in terms of every square foot.
Appearance: the next certain point which comes up as the factor is the appearance of the solid countertop. It can be easily gestured that there is nothing special in it and the look of the solid countertop is pretty simple and ordinary. However, quartz countertops are manufactured with attractive textures that are really awesome in looks. It is really special when one thinks of placing the countertop at the proper place!
Non-porous: bringing up a solid countertop for your home will indeed heap you to a new level of growth for the bacteria. The chemical composition behind most certain rocks are porous and thus it leads to the growth of bacteria. However, the case is quite a bit opposite in the place of quartz countertops. Non-porous structure does not allow the growth of bacteria.
Strength: Physical strength of the rocks also adds up a new frame in the solid countertops. It can never be stated that these specific countertops ill have immense strength. The quartz countertops obtains the lead here are the physical strength is higher than most other rocks. This might be a huge plus point for people to get attracted towards them. Also the look of the furniture does not change due to the strength. Countertops made up of quartz are physically stronger to hold things tight.
All these points sum up in bringing a new idea to decorate your house. Grab up the best look of quartz countertops to design your house at the best way!