Black Galaxy Granite Countertops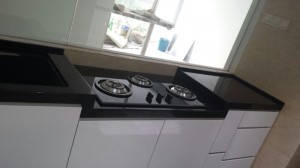 For the ones who are not familiar with black galaxy granite here is a little introduction about it. Black galaxy granite is basically a Black Gabbro that has metallic stars which are there as a result of mineral arrangement. It originated in a place called Chimakurthi which is in Andhra Pradesh in India. The Black Galaxy Granite also known as Star Galaxy, Ongole Galaxy and Galaxy Granite. This is a hard stone which is mostly used to make countertops. It is a really good material for the interior applications in houses.
Depending on the extent of the metallic specks in it, the Black galaxy granite is of the following types:
-Large specked Galaxy Black
-Small specked Galaxy Black
-Medium specked Galaxy Black
Black Galaxy Granite can be used in a variety of ways for designing interiors in homes and offices. It is good for kitchen counters, bathroom shelves and racks, flooring, cabinetry and for similar other purposes. Black galaxy granite proves to be a great material because of the advantages it holds that make it have an edge over other materials. These advantages are as follows :
-Immortality in a unique way
The best part about using black galaxy granite is that nothing can destroy it, be it putting on top of it a really hot items or be it cutting on it with a knife. The granite doesn't dull off neither it gets damaged. So, it is long lasting and completely safe.
The black galaxy granite is stain resistant once it is sealed in. This thus, helps in keeping it pristine throughout.
The granite is non porous in nature, so it getting dirty and becoming impossible to clean is out of question. the dirt does not settle in, so it is easy to clean and maintain.
The colour of black galaxy granite never fades out or dulls down. So, it looks new all the time. Besides, the black colour looks very classy and sophisticated. The arrangement of minerals in black galaxy granite is not the same. So, every granite looks different.
Black galaxy granite is cheaper than marbles and wood. It is easy to maintain and it is highly durable.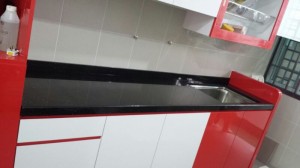 The only care it needs is that it needs to be sealed in every 2 years. Apart from that it is an excellent choice for the purpose of home interiors. It looks great and it is available easily and is quite affordable. It is very easy to maintain and does not need any fussy cleaning techniques. With black galaxy granite one can have a great looking home and the durability of this is praiseworthy.
Related Articles:
Read More On Countertops Solid Surface vs Granite…
Read More On Solid Surface Kitchen Countertops… 
Call us to get a Quote Today!