Polyester Solid Surface – Why you should have it?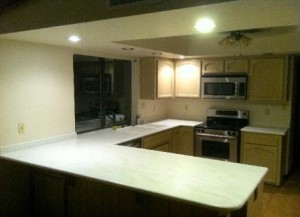 It is very important to make full inquiry about a particular product before buying. So, when this important thing is an important ingredient in your home interior then it is important to know about all options and choose the best one as suited for the needs. For kitchen countertops and table tops it is essential that the material chosen has the perfect need fulfilling capacity. So, here is a little something about the Polyester solid surface, which will help an individual in choosing what he or she requires. Polyester kitchen tops are materials used for the purpose of seamless counter-top installations.
Polyester solid surfaces are made by the combination of acrylic and polyester resins with an inert fill material. Before choosing a polyester solid surface, the one thing one has to worry about is the look, colour, texture and design. It is said that there must be a proper ratio of acrylic and polyester resins, but really that is not to be worried about.
Polyester Solid Surfaces have the following advantages:
-Seamless: These are seamless. So it is very much convenient to go for large expansions without any joins visible. This has two merits further. First that while making an expansion there is no problem faced as such and second that with the joints not visible it just looks good. Also, it is easy to get personalised designs as per the shape of the kitchen or the other places where it is to be used.
-Feature based merits: Polyester surfaces are chemical resistant. So, any reaction causing anything bad is not to be worried about.
-Polish-abilityPolyester has a great ability to be polished and in achieving a translucent effect. The glossy looks just add a lot of charm to the interiors.
-Maintainability: Polyester solid surfaces are a little brittle, so care needs to be taken on that front. But apart from that they are easy to clean and stain resistant. So one does not have to fret about what to do because of a minor spill. Also polyester is a little less resistant to the ultraviolet sun rays. So, care is important on that front too.
-Variety: Polyester solid surfaces are available in a variety of different colours and textures. So, one does not need to compromise on that because of limited availability.
-Price Factor: In terms of price also, the polyester solid surface is a great choice. It is not extremely expensive and thus, it is quite affordable and easy to avail. It has a greater feasibility in comparison to other materials.

So, now with polyester solid surfaces it is pretty easy to have the right looks for the home without having to think innumerable times about what might and might not be.
There are other type kitchen counter top like quartz kitchen countertops which is more pricey but it will be worth it's price. Just that the difference is that it will have joint line not like polyester solid surface.
Related Articles:

Solid Surface Counter tops vs Granite
Solid Surface Kitchen Table Top – What Type Of Solid Surface For Your Kitchen?