Solid Surface Countertops for Your Kitchen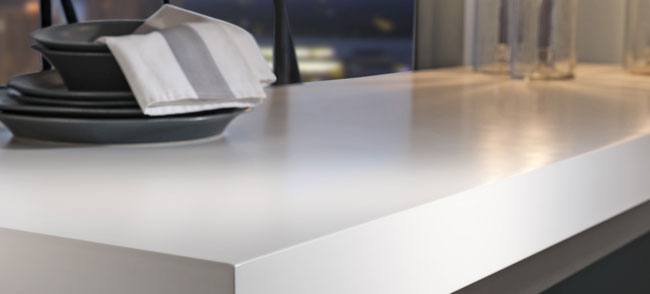 A solid surface countertop is made of a durable material that can last for years and will cost you much less than the more expensive seamless countertops made of slabs of stones or other natural materials. There are so many advantages for opting to go for a solid surface countertop and one of its highlights is really the cost but it's not a cheap type of countertop that can't offer you anything else than simply being inexpensive. This countertop will last for years and it's also very easy to maintain.  Many homeowners prefer this type of countertop because it resists stains as well as being heat or sunlight resistant and also moisture but not for all solid surface countertops. If you think about a kitchen, you sure would know that these are the typical enemies of countertops.
For those who are particularly strict about the growth of mold and other types of bacteria in their kitchen, a solid surface countertop for your kitchen would keep those molds and mildew away. They are non-porous so molds won't have anywhere to hide. By simply wiping your countertop after use would keep it clean especially when you keep it dry. A dry countertop is not a haven for bacterial growth because bacteria love moisture. It being a solid surface that is non-porous, moisture won't have anywhere to stay as well so you're definitely having a cleaner kitchen than using a different type of countertop.
Whatever design you want for your kitchen you'll surely find solid surface countertops that will match. They come in thousands of different styles, colors, textures and designs to choose from so you'll never run out of choices. Also, there are numerous manufacturers around the world offering their own brand of solid surface sheets so you are not limited or should rely on just 1 manufacturer. With more manufacturers that also mean the price has gone down so it's more affordable for homeowners to get their solid surface sheets and installed to their kitchen countertops.  Make sure you go for a manufacturer with good reputation and offers high standard products only.
Solid surface Countertops can also be bent to make a 3D shape. If you want to have an additional style to your kitchen countertop, you can opt to bend the solid surface sheet to pave the way for your sink or whatever curves you need for your countertop. Other solid surface countertops don't have this feature so it's a great big advantage.
More and more kitchens are using solid surface countertops and it's not only homes that takes advantage of this but some industries and commercial establishments are opting for this material as well. Why pay more for an expensive countertop material if you can get one that you can depend on without breaking the bank.  Another great thing about opting for an inexpensive countertop is when you want to flip your house and update your kitchen after a few years, you can easily change it to a new Solid Surface Countertops and you won't feel like you wasted money replacing it.
You may also like to read:
Call Us Today For A No Obligation Discussion!