Solid Surface for Seamless Countertops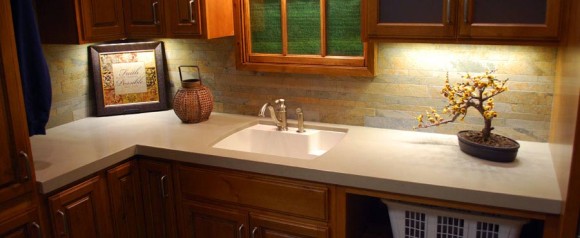 Going for a seamless countertop for your kitchen need not be the most expensive. Instead of going for a seamless slab of graphite or other type of expensive natural material, you can opt for a solid surface countertop vs granite that costs much less. Solid surface is using man-made materials and manufactured in sheet form. It can be made from different inexpensive materials such as polyester resins, bauxite, pigments and even with the use of marble dusts. What makes solid surface so great is that it can be used for installation on different shapes for the seamless finish you desire.
Solid surface are usually low maintenance and can give all sorts of styles for you to choose from. If you want to have the same appeal as stone countertops, you can opt for the solid surface ones that look like graphite or slab of stones. They can also look like wood or have really fun and cool designs to fit the more modern looking kitchens. Solid surface is not just for countertops as you can also use it for your bathtub or for your sinks or anywhere you think a solid surface sheet would be practical.
These solid surface sheets can be bent through thermoforming which uses heat to make different types of shapes you like. This is one of the advantages of opting for a solid surface than other more expensive material because it can be formed to different shapes that fit your home needs.
It comes in hundreds of different designs, colors and textures so you'll surely find the perfect one for you. No matter how unique your kitchen or bathroom is, you'll surely find a solid surface sheet that will work perfectly to match with your design. If you want one that looks like marble, there are many colored marble designs to choose from. If you want one that gives the granite effect, you'll surely find a vast selection of granite designs and colors as well. If you want a woody type of design then the wood grain look would be best for you.
Normally, solid surface sheets are used for homes particularly in Asia where it's the most popular. But nowadays, other countries such as the United States are using solid surface for their seamless countertops as well. Not only that, commercial or industrial market is also emerging as they prefer the solid surface because of its characteristic being non-porous as well as with its durability. With this type of surface, they can easily wipe it clean and all the microbes that can stay in pores of other types of surface won't be a problem anymore.
It is a cost effective choice that more and more people prefer. Now you can get a professional looking kitchen at a fraction of the cost of high-end kitchens that give an almost the same look. Its durability, style, creativity and cost effectiveness that makes solid surface as one of the most sought after seamless countertops in the world. More and more manufacturers produce these sheets so you have more options with bigger price ranges for better choices.
You may also like to read: