Staron Solid Surface Countertops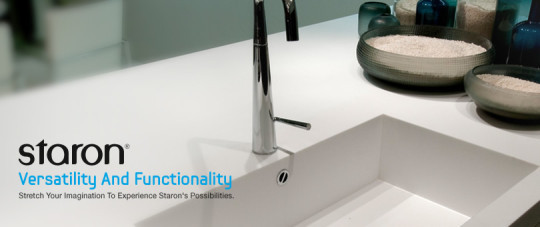 Kitchens, whether commercial or residential, needs to have a countertop. Kitchen countertops are functional and no kitchen can be made without it. If you are planning on building a kitchen or simply remodeling an old kitchen, it's best to go for a countertop that's made of a reputable company and will guarantee durability and can stand the test of time. The Staron Solid Surface Countertops are made by Samsung, a world-known company for making quality products. This type of countertop will last for many years and is durable, easy-to-clean, hygienic and easy to repair.
You wouldn't want any other countertop than the Staron Solid Surface Countertops. Even for commercial kitchens, this countertop can handle all the tasks. It is made of an all-acrylic material that's built to last even on a very busy kitchen. This countertop is great for all homes because of its non-porous layer that makes it hygienic. There are no place for moisture to stay in therefore bacterial growth is not possible as long as you wipe off the countertop after you use it. It's very easy to clean this countertop because all you need to do is wipe it clean. Because of this quality, this countertop brand is also granted an NSF certificate which means that it is compliant to being safe for contact directly with your food. No need to fear when your meat fell on the countertop because it won't be picking up bacteria.
Another great thing about the Staron Solid Surface Countertops is the ease of repairing it. Other countertops would cost a lot of money for repairs. Even a minor scratch can lead to bacterial growth and some countertops need to be replaced if you want to get rid of such minor problems. Not the same with this countertop because all the repair needed for such a problem is sanding it out and the solid surface would look just like new again. No fuss!
No matter what theme you want for your kitchen you'll surely find the right color or design of the Staron Solid Surface Countertops because they have over 70 choices. Also, they are easy to integrate to your sinks and backsplashes to give you a one-piece look which many prefer and love.
There are a lot of ways you can take advantage of this countertop and you'll surely love it for many years to come. If compared to other solid surface countertops this one surely takes the lead. You can surely never go wrong and you're guaranteed to be happy with its functionality. No need to worry about damaging it, it's built to last and is also very easy to maintain so you can focus more on what you're cooking than on what your countertop would look after. After cooking, cleaning would be a breeze. That means you'd be spending more time on other enjoyable and memorable things than spending a lot of time trying to tidy up your kitchen. It's really amazing. Staron Solid Surface Countertops will surely make your house feel a lot more homey.
You may also like to read:
Solid Surface vs Granite vs Quartz
 Call Us Today For A No Obligation Discussion!