Guide for Solid Surface Top vs Quartz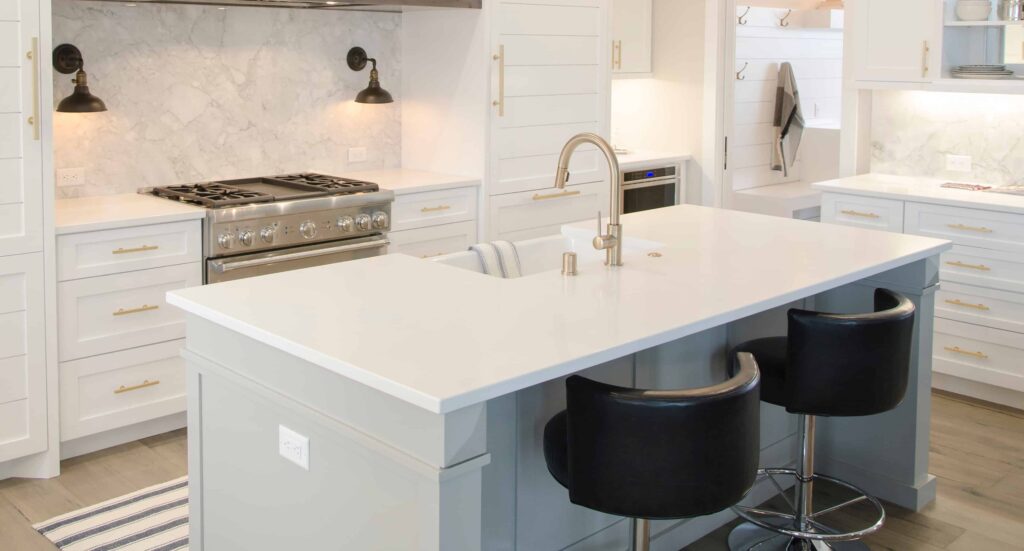 While buying accessories for the home, every owner tries to choose the best products with maximum usability. Choosing the right tabletop has always been a tricky part because of this one of the most prominent parts in any space. There is solid surface top vs quartz competition going on in the market. Both tabletops are highly engineered to meet the personalized needs and requirements of the homeowners.

Both solid surface and quartz table tops are premium quality materials available with different characteristics and properties. In terms of functionality, aesthetics, and maintenance, both materials have distinct qualities.
Solid Surface Top vs Quartz- What is the right choice?
Let's consider only these two man-made materials for you though many other options are also available, including stone tabletops. Choosing the right material needs you to consider different options because one product does not fit every situation. The solid surface top vs quartz debate is complex because both options seem to be pretty versatile for different décor arrangements.

Let's consider all the important factors about the solid surface top and quartz tabletops for a more informed buying decision:

The durability of both Materials
Solid surface tops offer a better finish so you need to be careful about shipping and scratching the shiny surface. These little issues may not break the tabletop but scratches will take away the charm.

On the other hand, quartz tabletops have the toughness of stone surface and are not very prone to scratches. In solid surface top vs quartz analysis, quartz is more durable and resistant to scratches.

Which is more Heat Resistant?
Solid surface table tops are made after molding the melted blend of plastics. Extremely hot or boiling water may affect the wrap of the top. Placing a hot pan can also leave marks on the surface. If you can take care of these little things, solid surface tops look great for years.

Quartz is more heat resistant does not take any damage in little incidents. Don't ignite the surface directly else you are good to use quartz table tops without any worries.

Solid Surface Tops are more Aesthetically Pleasant
Quartz tabletops look great and also offer a stone-like finish but solid surface tops are also second to none. As the surface is made after molding the plastic, the entire top looks uniform without any seams. Unlike quartz or stone table tops, solid surface tops can be made in any shape or design. If you want the minimalistic aesthetic design in a sophisticated environment, go for the solid surface tops.

Solid Surface Top vs Quartz- Who's the Winner?
Both materials are premium options due to highly engineered manufacturing processes yet your personal liking matters the most. The overall design or feel of your home is a major player in the decision-making process.

Quartz tabletops can be expensive so if the budget is tight and still you want premium quality, go for the solid surface tops. For textured top lovers, quartz tops are better recommended. In the solid surface top vs quartz race, both are winners in their own way.

Related Articles:
Solid Surface Countertops vs Granite – Which is better?
Solid Surface Kitchen Table Top – What Type Of Solid Surface For Your Kitchen?
Solid Surface Bay Windows – Why Prefer Solid Surface For Your Bay Windows?
Solid Surface Black Galaxy Granite – All About Black Galaxy Granite Countertop