Quartz Table Top vs Solid Surface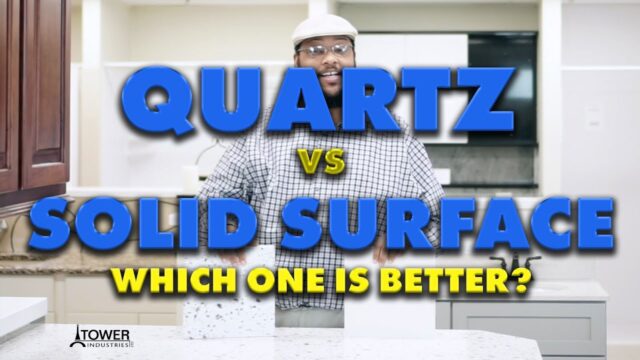 Tabletops made of natural stone look phenomenal, but many drawbacks have urged homeowners to consider better alternatives. Usually, people find themselves confused with the selection of quartz tabletop vs solid surface.
Knowing about the maintenance, differences, and construction of both tabletop options can help you make more informed decisions. Here is everything you need to know about quartz table top vs solid surface debate.
What are Quartz Table Tops?
In the industry, quartz tops are also known as man-made stones or engineered stones. The higher percentage of natural crushed quartz makes these tops useful in different settings. Glass or different recycled materials are used to bind the quartz. Usually, you can identity quartz table top due to the glossy surface and consistent pattern throughout the material.
What are Solid Surface Table Tops?
Solid surface countertops are also man-made yet with a blend of polyester plastic and acrylic. Solid surface table tops are generally available in matte finish with uniform texture and color. You can get custom color options for solid surface table tops as per your personal requirements. Solid surface table tops are prone to different damages and scratches. Manufacturers don't recommend placing hot plates on solid surface countertops.
Quartz Table Top vs Solid Surface Countertops
To understand the difference between these popular countertops, consumers need to understand the given differences too:
Construction methods
Both quartz and solid surface materials are man-made yet the structure and characteristics are different for each option. Quartz table tops have 93% of the natural quartz as it is the toughest material available for home applications.
In solid surface table tops, polyester and acrylic plastics are used to make the tops. As compared to quartz, solid surface table tops are a lot smoother and offer a glossy finish. These countertops are highly recommended for sophisticated arrangements.
Different structures
In some cases, both materials might look identical that's why you need to consider different factors to understand quartz tabletop vs solid surface discussion. Quartz table tops are generally available in different textures like marble or granite. Quartz is the best option for consumers who prefer natural stone accessories in the kitchen.
On the other hand, solid surface table tops offer a more glossy and shiny look with no visible seams. Different material is joined after melting process so the whole surface looks smooth and joint-free.
Performance and durability
As compared to natural stones, both quartz and solid surface table tops require less maintenance and care. No special cleaners or expensive materials are required to maintain both materials. Quartz is more resistant to scratches or other damages while the solid surface is prone to heat damage and scratches. Both tabletops can be cleaned with generic cleaning materials.

Conclusion
Understanding the quartz table top vs solid surface points is really important when it comes to choosing the right option for your home. Both materials have some pros and cons but come with the least maintenance requirements. Consider all of these important points while buying tabletops.

Related Articles:
Solid Surface Countertops vs Granite – Which is better?
Solid Surface Kitchen Table Top – What Type Of Solid Surface For Your Kitchen?
Solid Surface Bay Windows – Why Prefer Solid Surface For Your Bay Windows?
Solid Surface Black Galaxy Granite – All About Black Galaxy Granite Countertop
Meta description
Select the best countertop for your kitchen by going through solid surface top vs. quartz. Both materials are amazing but quartz can win due to grace.