What is the Best Solid Surface Countertop?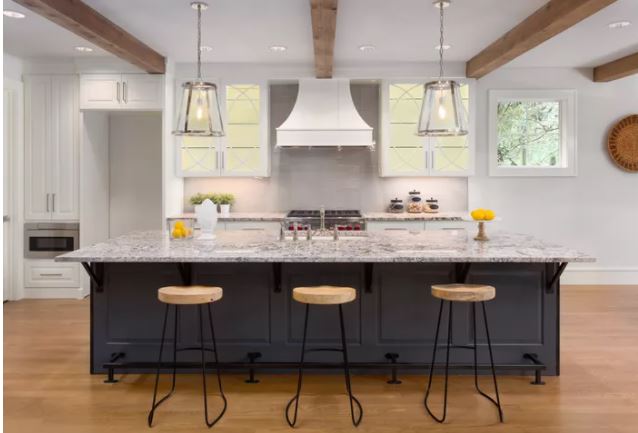 Finding the best solid surface countertop can be a daunting task. From natural stone to engineered quartz, and high-quality glass, there is a lot to consider when it comes to selecting the right material for your kitchen and bathroom. But don't fret! We are here to help you make an educated decision. To help guide you through your selection process, we've prepared a comprehensive list of points that you need to know about choosing the best solid surface countertops.

The choice of the best solid surface countertop may vary depending upon your needs but some points remain the same. Before you invest your money in the countertop, make sure to know about the basics of choosing the best solid surface countertops.

Choosing Best Solid Surface Countertops
The material makeup of solid surface countertops contributes greatly to their durability and overall value. Solid surfaces are primarily composed of acrylic, polyester, or melamine resin. You will want to avoid countertops containing acrylonitrile butadiene styrene (ABS).

Depending on the type and quality of the material, solid surfaces can be more durable than natural stone and engineered quartz. Just like glass, solid surfaces are nonporous, scratch-resistant, and easy to clean.

If you value aesthetics over functionality, then glass may be a better choice for your needs. Here are some tips on how to choose the best solid surface countertops:

1- Before you buy a solid surface countertop, consider the environmental impact. While natural stone and glass are non-renewable, solid surfaces can be recycled and reused. They are also manufactured using fewer components of plastic resins and solvents.

2- If you're willing to spend a little more money on your countertops, then opt for top-quality solid surface materials that have been tested and certified by the National Sanitation Foundation (NSF).

3- Consider how well your countertop holds up to heat. Glass is known for its heat resistance in comparison to other materials. Acrylics are also heat resistant but can warp during prolonged exposure to high temperatures (450°F or higher).

4- If you're planning to install a sink or cooking appliance, then consider purchasing countertops that can support your new appliances.

5- Keep in mind that the finish of solid surface countertops can have some effect on the appearance of your kitchen and bathroom. For example, if you go for a glossy or satin finish, it will highlight imperfections in the material such as scratches or indentations.

6- Many solid surfaces come available with matching backsplashes and accessories such as sink faucets and color-coordinated tiles. Choose from different styles including beveled glass, metal hexagons, or contemporary designs that fit your home décor.

Conclusion
Solid surface countertops are an excellent choice for today's busy lifestyles. Aside from their versatility and ease of cleaning, solid surfaces are also durable and easy to maintain. From high-quality quartz, natural stone to high-performance glass; this article has you covered when it comes to selecting the best solid surface countertops.

Related Articles:
Solid Surface Countertops vs Granite – Which is better?
Solid Surface Kitchen Table Top – What Type Of Solid Surface For Your Kitchen?
Solid Surface Bay Windows – Why Prefer Solid Surface For Your Bay Windows?
Solid Surface Black Galaxy Granite – All About Black Galaxy Granite Countertop
Meta description
It is critical to decide the winner among Solid Surface vs Quartz- Pros and Cons of both Materials but here you can find some cool facts about both.